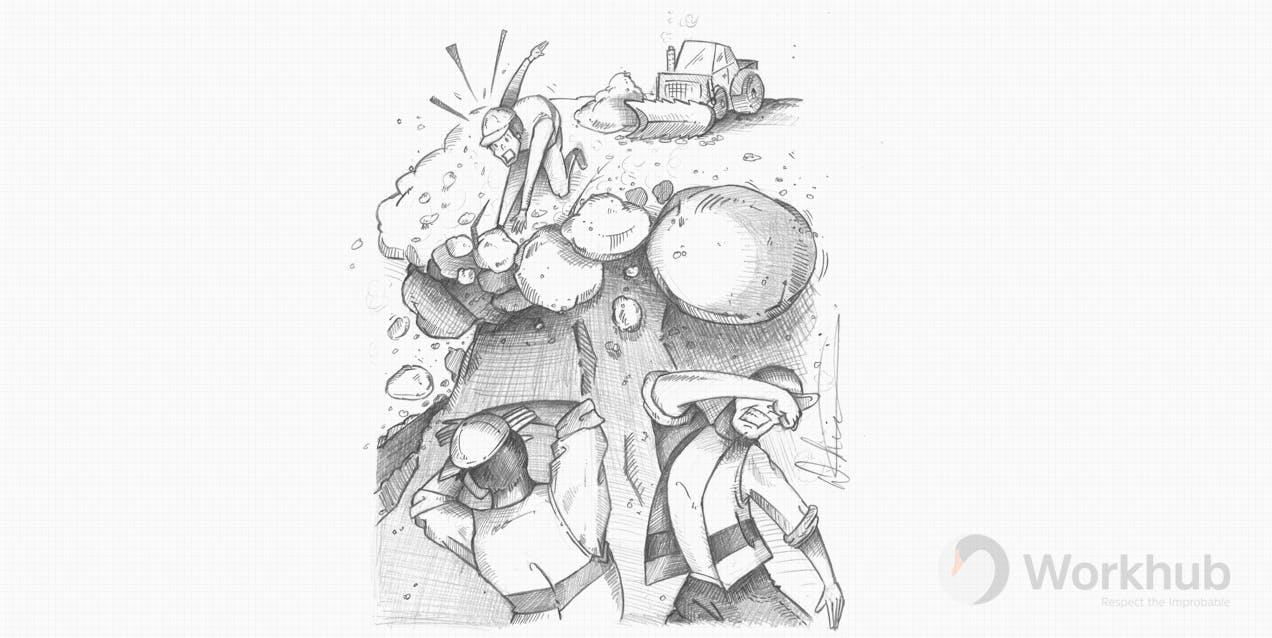 There was a serious accident on the trenching job site today – which scenario are you?
I feel so bad, plus I may lose my business, and people could lose their jobs. 
Thank God this wasn't my company, it was probably the worker's fault. 
I know we did all the training; it was 100% preventable. I can't explain but I must find ways to do more. 
How do I protect workers, and help workers protect themselves, to ensure this doesn't happen here? 
Trenching and excavation related risks
Within seconds, workers can be trapped or crushed by cave-ins or the collapse of unsafe trenches.  As stated by CCOHS, trenching and excavation hazards include:
Cave-ins or collapses that can trap or crush workers. 
Equipment or excavated soil falling on workers (e.g., equipment is operated, or soil and debris is stored too close to the excavation). 
Falling into the trench or excavation. 
Flooding or water accumulation. 
Exposure to a hazardous atmosphere (e.g., gas, vapor, dust, biological contaminants, or lack of oxygen). 
Contact with buried service lines such as electrical, natural gas, water, sewage, telecommunications, etc. 
Contact with overhead electrical lines. 
Slips, trips and falls as workers climb on and off equipment, or from inappropriate access and egress methods. 
Being struck by moving machinery, or by falling or flying objects. 
Hazards related to materials handling (e.g., lifting, struck by, crushed between, etc.). 
A rise in trenching and excavating related accidents
In recent years, there has been a rise in trench and excavation related fatalities.  According to the U.S. Department of Labor, "in the first six months of this year, 22 workers fell victim to the deadly hazards present in trenching and excavation work – surpassing 15 in all of 2021."  
Most recently, in June of 2022, an unprotected trench which was over 20 feet deep collapsed on two workers, aged 20 and 39 in Texas.  Both workers suffered fatal injuries, while the trench shields, which could have saved their lives had been set aside, untouched, next to the excavation site. 
Moving forward, these incidents will highlight the importance and significance of the ways that agency officials assess penalties for accidents relating to trenching and excavation.  All these tragic deaths would have been preventable if the employers had followed Occupational Safety and Health Administration criteria.  
Not only are such accidents horrible tragedies for the families and loved ones of the victims but they also take an emotional toll on staff and can have huge legal and financial repercussions for your company, including termination of your business.  According to Doug Parker, with the U.S. Department and Labor, these penalties include "criminal referrals for federal or state prosecution to hold employers and others accountable when their actions or inactions kill workers or put their lives at risk." 
How can your company prevent these tragic accidents? 
Ensure workers are properly trained for the job and up to date on all job specific policies and procedures. Competencies can help to ensure that workers are competent at performing a specific job or task. Safety meetings are a great way to go over specific jobs or tasks to communicate any hazards that are present and how to safety deal with them. Forget paper and spreadsheets; an all-in-one safety and compliance management software can help you keep track of training, certifications and other requirements, to ensure that all your workers are compliant and up to date. 
Workhub recommends contacting your local OSHA office to ensure that your company complies with trenching and excavation requirements. According to the U.S. Department of Labor, "OSHA will conduct outreach programs, including safety summits, in all [their] 10 regions to help ensure any employer who wants assistance gets it." 
With the rise in trenching and excavation related accidents, the U.S Department of Labor "[urges] workers to contact their local OSHA or state plan office, or call 800-321-OSHA, if their employer requires working in or beside trenches that are not sloped, shored, or shielded and are five or more feet in depth." Trenching related accidents and fatalities are completely preventable and so are the legal and financial repercussions that come with them.
Workhub provides a complete health and safety compliance software that allows easy management of training, procedures, policies, inspections, and more, centralized in one easy-to-use hub.
Still have questions?
Let our knowledgeable sales team give you a full product tour and answer any specific questions you may have.