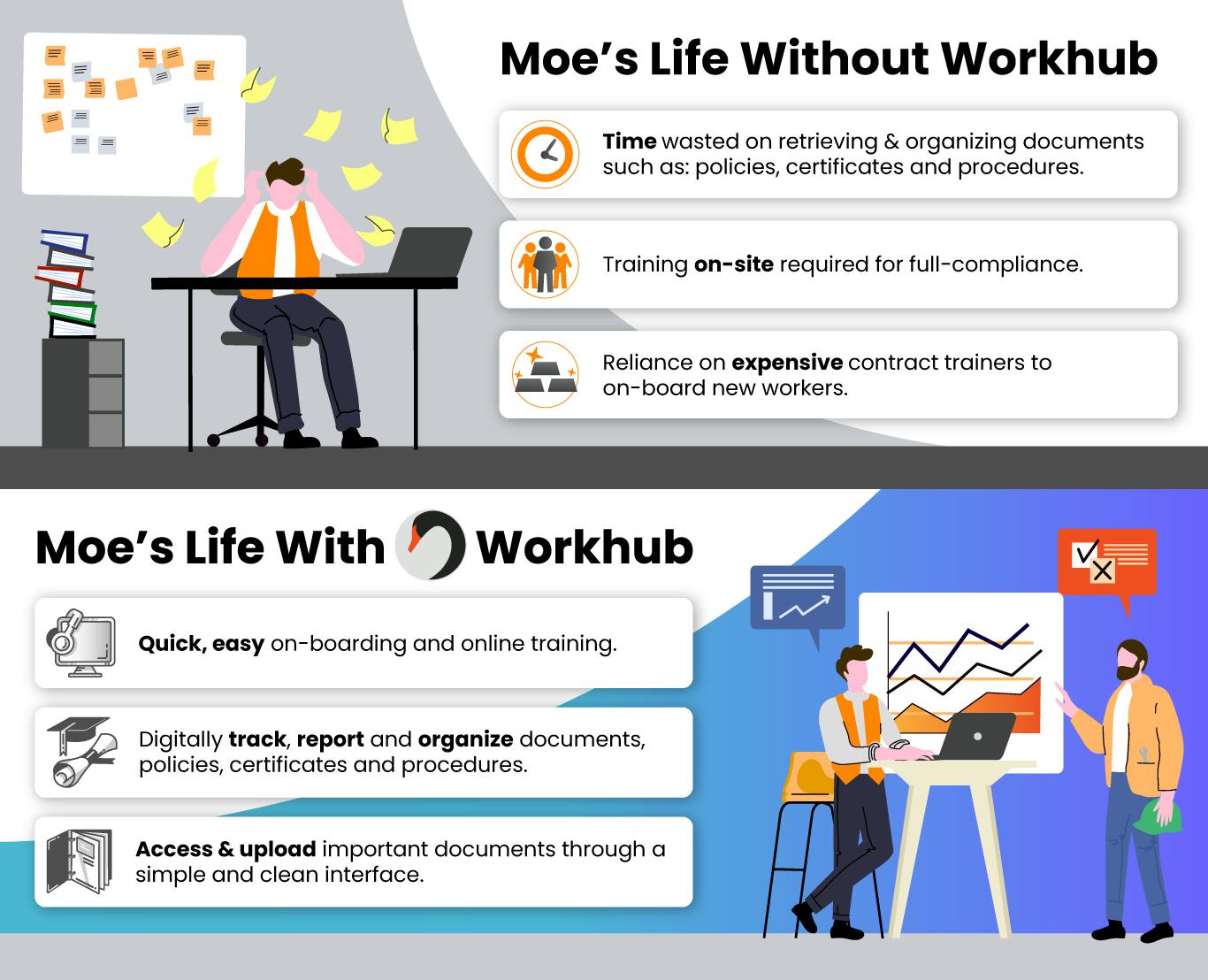 Let's start off by recognizing that, safety isn't always fun. It's just not. As a safety manager, it can get extremely overwhelming staying on top of the organization's safety needs, on-boarding new hires efficiently, screening your employees for qualifications, and the list just goes on. 
Opting for an all-in-one compliance and safety solution saves you time, effort, and money on a day-to-day basis.  
How you may ask? Let's explore how "Moe", the Safety Manager's, life changed since using Workhub. 
On-boarding New Hires 
Properly training workers has been a struggle since the dawn of time. Previously, Moe needed to hire expensive trainers to on-board new hires. Not only that, but he would need to make arrangements to on-board large amounts of workers at once in order to save money, making it inconvenient for work schedules and hard to test comprehension. 
With Workhub, Moe can now on-board new hires quickly and efficiently using our Online Training tool. He chooses from over 60 pre-built safety awareness courses to create a custom cloud course with custom quizzes and his own pass rates. He's now able to train large groups at once and track workers' progress without any headache. 
Tracking Certificates 
Spreadsheets are everyone's worst nightmare. Previously, Moe used a spreadsheet to track his workers' certificates and qualifications. We can't forget to mention that he had to hunt them down to collect and store these certificates and it was difficult to refer back to the spreadsheet from different locations. 
With Workhub, Moe finds it extremely easy having a central repository for all his workers' certificates. Not only that, but he assigns different trainings based on required certifications, approves or declines uploaded certificates, and easily manages his workers' progress. 
Procedures 
Running around looking for the binder to find out how to clean up a spill is just insanity. Moe's workers had previously been put in situations where previewing procedures from a binder was inconvenient and time-consuming, sometimes even dangerous. He found that ensuring workers understood how something is meant to be done on the job was a strenuous task. 
Moe now uses Workhub to ensure his critical day-to-day tasks are done efficiently and consistently.  He created standard operating procedures to provide insight and clarity to everyone performing tasks. He uses these to explain proper technique and identifies hazards thus reducing overall risks. What makes this easy is that it's easily accessible to his workers on the job through their smartphones. 
Overall, Workhub has really changed the nature of Moe's job. His day-to-day tasks are easily carried out and the software always ensures he's on top of health and safety at for his organization.  
Workhub provides a complete health and safety compliance software that allows easy management of training, procedures, policies, inspections, and more, centralized in one easy-to-use hub.
Still have questions?
Let our knowledgeable sales team give you a full product tour and answer any specific questions you may have.