Partner Details
Project History
7 Completed Projects
Contact Info
Dawson Creek, BC 2502191336

Qualified Professionals:
2
Partner Profile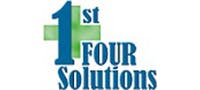 1st Four Solutions offers a practicable and a achievable health and safety program as well as sustainable consulting solutions to suit your organization. we provide the health and safety and expertise, guidance and resources and we will work in partnership with you at all times ensuring that you fully benefit from our qualified & skilled health and safety consultants.

Still have questions?
Let our knowledgeable sales team give you a full product tour and answer any specific questions you may have.
Book A Demo